Reduce Accidents:

by teaching correct methods of avoiding accidents

Reduce Product Damage:

by teaching best load handling techniques

Reduce Equipment Damage:

by giving instruction in correct operation and handling

Reduce Lost Time Injuries

: by reducing accidents, and unplanned work stoppages
Our Mission, Vision and Values
Vision
To have every individual and business working safely and in full compliance of all OSHA Standards and Regulations.
Mission
To provide the best and most affordable forklift training solutions, allowing our clients to achieve their personal and professional goals by providing the tools and knowledge necessary to form a foundation in safe work practices while complying with all Federal and State Standards and Regulations.
Values
To establish, maintain and conduct honest and ethical relationships with our clients, business partners, employees and community. We are committed to the principle that quality, integrity, mutual respect, trust, and teamwork are paramount in all business decisions.
Our Staff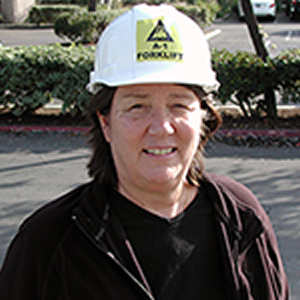 Donna Fauscette, Managing Director
Favorite quote: "Yesterday is history. Tomorrow a mystery. Today a gift. That's why it's called the 'present.'"~ Unknown
Donna Fauscette is the founder and managing director of A-1 Forklift Certification. During her 30-year career working for the largest package delivery company in the world, Donna served in operations and training for 30 years. She ran a package distribution center with 60 drivers, ensuring all packages were delivered on time, daily. Five years ago, before recently retiring from her full-time position, Donna decided to start her own forklift training and certification company. "I love people and training. I get a lot of personal satisfaction from watching people learn and teaching them a trade that helps them to enjoy a secure future," she says.
In addition, Donna founded her company on the principle that safety must be a way of life. "At the end of the day, ourselves and our families are our most important stop," Donna says. She adds that she built A-1 Forklift Certification on the premise that all training would exceed OSHA requirements, emphasizing "Safe by choice, not by chance."
When Donna isn't spending time training or forming a strategizing on leading-edge ways to help companies ensure workplace safety, she is indulging in anything that has to do with tennis. As an avid tennis fan, Donna enjoys watching the pros play on TV or on the court. In her spare time, she enjoys crossword puzzles and Sudoku.
We are National!
For years, Donna has been providing training and certification nationwide including:
California, Florida, Texas, Georgia, Illinois, New Jersey, New York, Ohio, Washington, Nevada and Indiana.
A-1 forklift is pleased to provide our online training and certification in the following states: North Carolina, Virginia, Arizona, Pennsylvania, Michigan, Colorado, Louisiana, Maine, Alabama and Mississippi.
We also provide services in Montana,South Carolina, Indiana, Oregon, Connecticut, Maryland, Tennessee, Minnesota, Oklahoma and Wisconsin.
We have extended our online training to Massachusetts, Arkansas, Kentucky, North Dakota, South Dakota, Nebraska, New Hampshire, New Mexico, Rhode Island, Wyoming and even Alaska and Hawaii.
We are happy to say that A-1 forklift certification has also reached as far as Iowa, Idaho, Delaware, Kansas, Kentucky, Missouri, Utah, Vermont, North Carolina and, of course the District of Columbia.