Why do I need to train my forklift operators?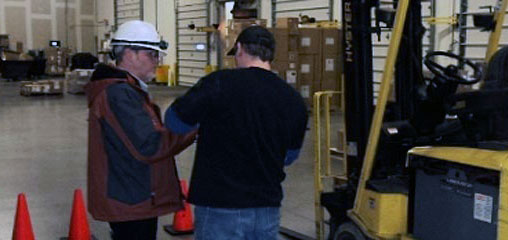 OSHA Standard CFR 1910.178 requires that all employees operating forklifts and other powered industrial trucks (PITs) receive training in their operation for safety reasons.
By committing to proper employee training, you will not only ensure compliance, but also be creating an environment that supports and values safe work behavior.

Additionally, failure to comply with OSHA standards and regulations can result in expensive fines and loss of insurance coverage.
What training does the OSHA standard require?
OSHA requires that both formal (lecture, video, interactive computer, etc.) and practical (demonstration and hands-on exercises) training must be provided. The standard also requires that the person conducting the certification be trained and both knowledgeable and experienced in PIT operation.
Who should complete our on-site evaluations?
A person is required to have the necessary knowledge, training and experience to conduct PIT evaluations. You may designate anyone within your organization that is so qualified.

There are also a number of resources for those electing to use an outside source for their certification needs. Some examples are: PIT retailers/service centers; local health and safety organizations and private consultants. 

The most important thing to remember when considering your options is that the OSHA Standard requires site-specific content and evaluation. Showing your employees a few safety videos does not establish OSHA compliance.
What types of training do you offer?
There are basically two options available for your business' needs: You may designate someone to complete the certification using train the trainer or elect to have onsite training. The benefits of each are outlined below:
'Train the Trainer'

A-1 Forklift's Train the Trainer package includes all of the materials needed to conduct your own in-house training, evaluation and certification. If you have someone within your organization that has the necessary knowledge, training and experience to conduct PIT evaluations, this is your best option. 

We provide your organization with all the important tools required for success:

Instructor's handbook
PowerPoint presentation
User-friendly materials that reinforce training
All necessary testing and certification documents

'Onsite Training'

A-1 Forklift's onsite training course is a flexible choice tailored to fit your specific needs and help your company fulfill all compliance requirements. We will customize your training, coordinate with your organization's schedule and concentrate on providing the best training options available. We provide all materials and complete the entire documentation process for you. The professionals at A-1Forklift Certification has 30 years' combined experience in warehouse management and forklift operation. We are leading experts in training and certification for a wide variety of industries and needs.
Does A1-Forklift Certification training meet OSHA requirements?
Yes, this training meets all current OSHA requirements.
What types of vehicles are covered by this training?
Topics related to the operation of PITs in classes 1-7 are covered in this training. These are, by definition, power-propelled trucks used to carry, push, pull, lift, stack or tier materials; this includes both rider trucks and those controlled by a walking operator.

Equipment used for over-road hauling and/or earth moving is NOT covered.
How will I know that you have received my information after completing the test?
Once you have successfully passed the test, you will be issued a certification number and prompted to print your certification of achievement. Your wallet card is mailed that same day.
How long is the certification valid?
We offer certifications is valid for three years and one year from date of issuance.
Are there specific situations under which re-training or evaluation would be required?
You are required to re-train, evaluate and re-certify employees:
Whose certification has expired
Observed using unsafe work methods
Involved in an accident or a near-miss incident
Using a different type of vehicle
Working under conditions that are different from their original certification
What type of documentation will I have to maintain?
OSHA requires a written certification record which includes:
The name of the operator
The date of training
The date of evaluation
The name of the person completing the evaluation
How long am I required to keep these records?
Records should be updated every three years or whenever new training and/or an evaluation is conducted.
What if an employee has been trained or certified elsewhere (temporary workers, new hires, employees trained through a trade union, etc.)?
The OSHA Standard dictates that the employer ensure that each operator is trained and evaluated for the specific type and model of truck that will be used in the workplace. Although there are various interpretations as to employees working through temporary agencies, ultimately, it is the employer's responsibility to provide proper on-site safety training. Remember, the benefit of providing this training is that you will lower your risk of injuries, accidents, and property damage.
Request forklift training at your company now »
Based in Anaheim, California, A-1 Forklift Certification provides high-quality online forklift certification, on-site courses, hands-on training, aerial lift training and train-the-trainer courses. Our team has more than 30 years' experience in forklift operation and warehouse management. Earn a better living. Start a new career. Ensure optimal workplace safety. Let us help you to comply with OSHA regulations and get certified. Shop now.
We offer our online training and certification in all 50 States.
Training and certification available in: AK,Alaska, AL,Alabama, AR,Arkansas, AZ,Arizona, CA,California, CO,Colorado, CT,Connecticut, DC,District of Columbia, DE,Delaware, FL,Florida, GA,Georgia, HI,Hawaii, IA,Iowa, ID,Idaho, IL,Illinois, IN,Indiana, KS,Kansas, KY,Kentucky, LA,Louisiana, MA,Massachusetts, MD,Maryland, ME,Maine, MI,Michigan, MN,Minnesota, MO,Missouri, MS,Mississippi, MT,Montana, NC,North Carolina, ND,North Dakota, NE,Nebraska, NH,New Hampshire, NJ,New Jersey, NM,New Mexico, NV,Nevada, NY,New York, OH,Ohio, OK,Oklahoma, OR,Oregon, PA,Pennsylvania, RI,Rhode Island, SC,South Carolina, SD,South Dakota, TN,Tennessee, TX,Texas, UT,Utah, VA,Virginia, VT,Vermont, WA,Washington, WI,Wisconsin, WV,West Virginia, WY,Wyoming
A-1 Forklift Certification Home | About | Online Forklift Certification | Hands-On Training | Train the Trainer | Onsite Forklift Training | Aerial Lift Training | Fire Prevention Training | Privacy Policy | Terms of Service | Refund Policy | Contact Us
Copyright 2023 . A-1 Forklift Certification. All rights reserved. Website by M5 Consultants.